VALIANT Heart Failure Risk Score
Clinical Use
Predict future heart failure hospitalization in patients with stable acute myocardial infarction
More Info
VARIANT study assessed the risk of an initial hospitalization for heart failure in 11,040 patients with acute myocardial infarction, without a prior history of heart failure, who had no major non-fatal cardiovascular events or deaths within 45 days of randomization. An integer-based risk score was developed using the parameter estimates of the 8 strongest predictors.
VALIANT heart failure risk scoring
Factor
Assign points
If patient
Age
0
is 50 or younger
4
is 51–60 years
5
is 61–70 years
9
is 71–80 years
10
is older than 80
Race
0
is Caucasian or Asian
6
is African-American
4
is any other race
Diabetes
0
does not have diabetes
5
has diabetes
Prior MI
0
has not had a prior MI
5
has had a prior MI
PVD
0
does not have PVD
5
has PVD
LBBB
0
does not have new LBBB
5
has new LBBB
Killip Class
0
is Killip Class 1 or 2
3
is Killip Class 3 or 4
NYHA class at 45 days
0
is Class I
3
is Class II
5
is Class III
9
is Class IV
The graph below demonstrates distribution of scores and heart failure hospitalization event rate in each score category.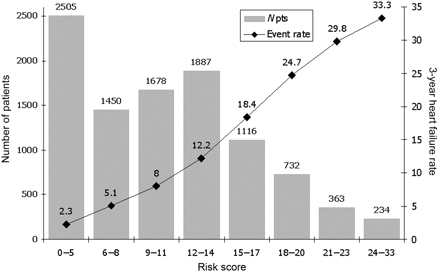 European Heart Journal, Volume 29, Issue 6, 1 March 2008 1
Reference
1.
Eldrin F. Lewis, Eric J. Velazquez, Scott D. Solomon, Anne S. Hellkamp, John J.V. McMurray, Jasmine Mathias, Jean-Lucien Rouleau, Aldo P. Maggioni, Karl Swedberg, Lars Kober, Harvey White, Anthony J. Dalby, Gary S. Francis, Faiez Zannad, Robert M. Califf, and Marc A. Pfeffer. Predictors of the first heart failure hospitalization in patients who are stable survivors of myocardial infarction complicated by pulmonary congestion and/or left ventricular dysfunction: a VALIANT study.

Eur Heart J.

 2008 Mar;29(6):748-56. Abstract
Disclaimer
We are doing our best to prepare the content of this website. However, Cardiology Connections, Corp cannot warranty the expressions and suggestions of the contents, as well as its accuracy. In addition, to the extent permitted by the law, Cardiology Connections, Corp shall not be responsible for any losses and/or damages due to the usage of the information on our website. Furthermore, the links contained on our website may lead to external sites, which are provided for convenience only. Any information or statements that appeared in these sites are not sponsored, endorsed, or otherwise approved by Cardiology Connections, Corp. For these external sites, Cardiology Connections, Corp cannot be held liable for the availability of, or the content located on or through it. Plus, any losses or damages occurred from using these contents or the internet generally.
Developer: Sirikarn Napan, MD, FACC